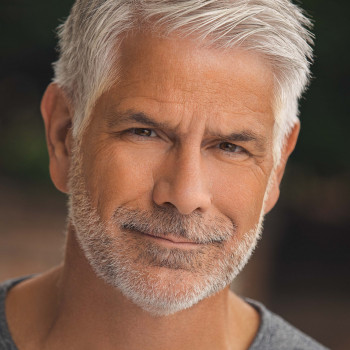 The eighth of twelve children, I'm finally doing what my family always thought I'd be doing. I just got to it a little late!

My enthusiasm for life originates from the wellspring of 68 years of marriage between my mother and father... Among us kids are parents (of 23 grandchildren), 2 engineers, 2 artists, a demolition expert, 2 nurses, 2 educators, an environmentalist, a social worker, and... me, a former broadcast journalist turned corporate sales executive, turned actor.
2020 brought a significant change in my life, in the form of Actors' Think Tank, a collaborative group of actors and performers that meet once a week via Zoom to feed each others' souls and continually develop our skills. It's become so much more, benefitting from guest spots by the likes of Kevin Bacon, Lev Gorn and an impressive group of Casting Directors, Coaches and Industry Professionals.
What do I love outside of my acting world? Travel in general, but whenever I can with my sons, with whom I've seen three continents as well as close to 30 states (on my own, Alaska is the only box I gotta check). Skiing anywhere; I've checked boxes for the Rocky Mountains, the Canadian Rockies, the Sierra Nevada Range, the Cascades, Eastern Canada and the Alps. Time with my girlfriend, with Florida, Washington DC, Napa Valley and the Big Apple among our favorite destinations. Live concerts by the world's greatest bands, spanning my almost 60 years, ranging from John Mellencamp to Gordon Lightfoot to Pat Metheney to Prince to Billy Joel to the Utah Symphony.

My life's mission is to live up to what my parents encouraged. Namely, the following:
Put others first.
Whatever you do, do it all the wayl
You only have one chance to make a first impression.
God gave us all gifts - use them!
A John Mellencamp fan since I was 16, I think Mom and Dad approve of my favorite quote from "Minutes to Memories":
"An honest man's pillow is his peace of mind..."
Before my "enlightenment", I spent 15 years as an Emmy Award winning sportscaster/special projects and telethon host for five different network affiliates. The father of two, I left that career to raise two sons, coach them at every level they'd let me (until high school...), and make a paycheck that enabled me to send them to the colleges of their choice.
What I do now depends on you.... Thus far, I've spent my time as a gardener, executive, coach, Senator, father, whisky drinker, health-food advocate, host, spokesperson... you name it, I'll play it and bring authenticity to each and very role.
Click on the Demo link and Gallery/BTS for samples.